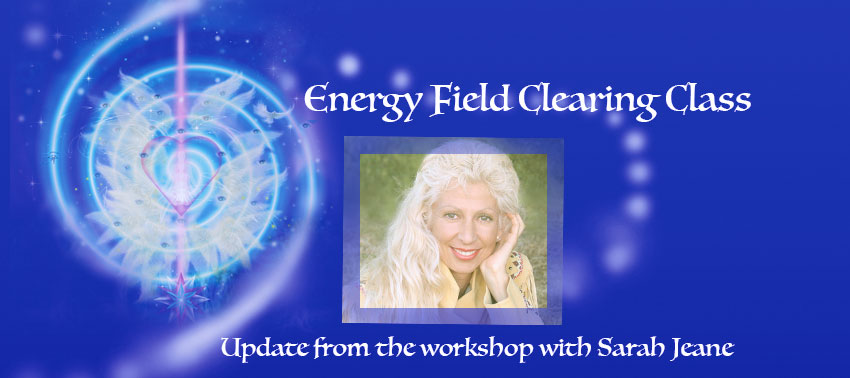 Energy Field Clearing Class Update
Energy Field Clearing Class with Sarah Jeane Sibli
Update from the workshop
Please download ZOOM in oder to see Sarah Jeane on your screen and receive the information of this workshop.
sj@artfromthelight.com
sarahjeaneartfromthelight.com • artfromthelight.com


Dear Angels,
So wonderful to connect with you via Zoom for this upcoming class! I hope that you are using the processes from the Energy Field Clearing Workshop to feel free, lighter, and happier and to sustain your balance.
You are invited to a meeting and class via Zoom Friday, April 26 from 8:00 PM to 9:30 PM, to review the Energy field Clearing together because there are a few new important processes.
• The cost or donation to attend and register is a minimum of $10.00.
• There are a few changes and new processes to clear our energy field because we have now the capacity to raise our frequencies at a much higher level.
We are moving deeper within our Essence of Light and therefore integrating deeper our Higher Self to be free from frequencies and energies which have been with us for so long, energies which do not belong to us. These are additional levels which are now being revealed because our multidimensionality is expanding along with our oneness consciousness.
• As you register for the class you will receive these processes and we will go over them to understand them and practice together within a safe Sacred Space.
• In the next few months I will offer additional workshops online from Spain via Zoom. If you would like healing sessions we may connect via Skype or WhatsApp too. The distance makes no difference. Love and Light has no limit!
Please feel free to contact me with your questions at sj@artfromthelight.com
Namaste,
Sarah Jeane Sibli

• To purchase class please click on Buy Now button below:
• To donate more please click on Donate Button below: